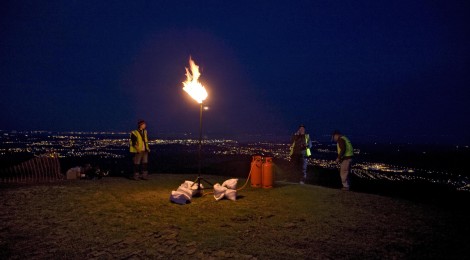 THE QUEEN'S DIAMOND JUBILEE BEACON
Along with thousands of other Beacons lit around Britain was the beacon atop Gwent's highest  mountain, Twmbarlwm.
The event was organised by the Cymdeithas Twmbarlwm Society whose aim is to promote the mountain for the purpose to research, restore and protect the historical monument at its peak. The society was ably supported by Abercarn scouts troop who helped steward the event and guide spectators safely to and from the Tump for this unique event.
Over 200 people spectators attended the beacon ceremony on Twmbarlwm – which also acted as the signal to other beacons around Gwent such as the huge bonfire event at Ridgeway – and from this lofty vantage point many beacons could be seen from Gelli Gaer and Penyfan to the north over to those on Flat Holm and even to Bream Downs over the channel.
There was a fabulous atmosphere amongst the spectators who tackled the ascent to celebrate this very special occasion of The Queen's Diamond Jubilee. As they enjoyed their picnics, sing songs and banter they were rewarded with clear skies for a great sunset and a picturesque full moon reflecting in the waters of the Bristol Channel.
The photos show Sam Southall, who is both a  member of CTS and Abercarn scouts, lighting the gas powered beacon – and in the background is the night time panorama of Newport and the Severn Estuary.
---