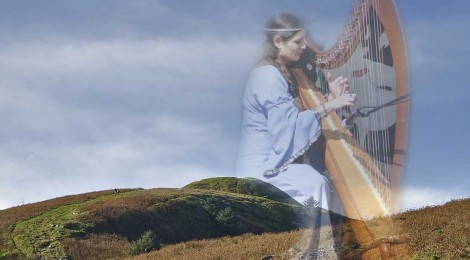 Ghostly Music Mystery – Solved?
In much of Celtic and Welsh mythology there are legends of mysterious harp or pipe music enchanting heroic characters to the afterlife or who knows where. Many Welsh hills have such legends attached to them and Twmbarlwm is no exception. Even in the early 20th Century there was a local story of strange ethereal music luring a young girl away from her friends – never to be seen again.
Talk to locals now and you'll soon find someone with a tale to tell of ghost-like music on the Tump and along the ridgeway and many have their theories to what causes this phenomenon. But DAVID JANDRELL thinks his mother may have come across the real answer in a conversation with her friend Mrs. Winifred Humphries which went something like this…
"One fine day in the mid 50s I took my children up to Twmbarlwm. Unfortunately I have forgotten the exact date but it was the year that our local Territorials were presented with their new colours at Ebbw Vale. The Queen was supposed to come down and present the colours but in the end, she was unable to come so the Duke of Edinburgh did the presentation in her place.
My children, Edward and Delyth, had been ill – as had two of their best friends – so I decided to take them all out for a bit of exercise and fresh air. This particular Sunday morning started off being dense fog. We set off to go to Rock Cottage and we went up ultimately over to Twmbarlwm.
By the time we got to Twmbarlwm we'd risen above the fog and the sun was shining beautifully. The fog cleared away and the children thoroughly enjoyed themselves. While they were running about, I sat down just below the earthworks and I was facing Medart mountain, Risca on my left and Cwmcarn pit down in the hollow to my right.
As I sat there I suddenly became aware that I could hear words of military command – "Quick march! Slope arms! About turn! etc.", I could hear a band playing, I could hear sounds of people marching and I could hear the order being given to halt. I thought, 'Well, somebody is practising drill in Cwmcarn pit grounds'. The Cwmcarn pit was in operation at the time.
I left my picnic gear and went round to have a look and I didn't have to go many yards before I could see that Cwmcarn pit was deserted – there was nothing there, nobody there at all. Neither was there anybody down in the valley immediately below. I went back and I listened and I heard the complete drill going on so I called the children, got them to sit down quiet and they listened and confirmed that they heard the same as me. Children being children they soon went back to their playing though.
It was then that  I remembered the planned visit of the Queen and realised that I was listening to drill being performed in what was then the yard of the Crescent Toy Factory – almost 2 miles from where I was sitting – and I heard every word and every move they made. When they marched away I heard the order being given. I heard the gates being shut and then it faded away as they went out of range.
I can only assume that the Nant Carn valley was acting as a funnel for the sound. The strange sounds that have been heard especially at night on Twmbarlwm, I think, are echoes from Cilfynydd mountain and Cwmcarn.
Again a few weeks later, chatting to a neighbour they said that they'd heard an organ playing at the same place I had been. Further investigation showed that at that same time someone was playing the organ in Cwmcarn church and being a warm day, they had the door open.
Personally, I think the atmospheric conditions have to be just right to experience the phenomenon but for me  that settles the question of the haunting music of Twmbarlwm. As regards anybody's disappearance you'll have to come up with your own theories – it could still be those underworld fairies up to no good".