GOOD FRIDAY – 25th March 2016
Be part of the tradition…
It has long been local tradition for people to get together and walk to the top of Twmbarlwm – it's a tradition that was starting to fade away but CTS has been promoting the event for the past few years and more and more people turn up every year. We don't expect everyone to join our organised walk but all will be welcome. We just want to encourage people to get up the Twmp, any time of the day, at their own pace and bring a picnic and spend a while enjoying the views and the mystery of this iconic mountain.
CTS members will be there offering Hot Cross Buns to all who get to the top, FREE – but we will gratefully accept any donations to the cause.
Organised walk to re-trace part of the route of the ancient pilgrimage trail.
Meet at the Stony Bridge on Fields Road in Pontymister at 10.30am, to walk up to Twmbarlwm.
Click on the image on the right to download this poster, print it out and display it in work or anywhere it will get seen – let's get the word around and get a record number of visitors this year.
ROUTES
There are many routes you can take to get to the top of Twmbarlwm and the one you choose depends on whether you want to drive part of the way and how energetic you feel on the day. I have put a map together on Google Maps to show you a few options.
FROM PONTYMISTER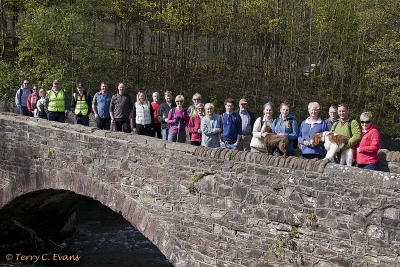 CTS is leading a walk from the Stony Bridge on Fields Road in Pontymister – starting out at 10.30am. We chose this route as it is part of the ancient pilgrimage route that was used by pilgrims travelling from Llantarnam Abbey to Penrhys. Dr Maddy Gray of the University of South Wales joins us on this walk and will impart her knowledge of the pilgrims to those who are interested. The walk is only about 3 miles, mostly on road, but straight up the steep hill through Ty-Sign and onto Mountain Road – it should take about one and a half hours. This is a popular walk and in previous years we have had over 30 people taking part.
FROM CWMBRAN
Our friends from the Ancient Cwmbran Society also organise a walk from Greenmeadow Community Farm – starting at 10am. This walk is also part of the ancient Pilgrimage route – I'm afraid I haven't put details of their route on the Google Map but please visit their website for details.
CWMCARN FOREST DRIVE
Unfortunately, as you may know, the Forest Drive is now closed to public traffic, so you are unable to drive to Car Park 2 which was always a popular route.
The Cwmcarn Visitor Centre is still open for business and you can still park there and walk up through the woods and through  Pegwyn y Bwlch to the top – but, be warned, it is quite a strenuous route.
Friends of the Cwmcarn Forest Drive will be organising a group walk from the visitor centre – and as soon as we get details we will post them here.
FROM ROGERSTONE
It is possible to drive to within half a mile of the summit on the Risca side – up to the new car park which was campaigned for by CTS. But please be aware that Mountain Road is a narrow single track road with few passing places and on a busy day like Good Friday there is a good chance of meeting oncoming traffic – so if you choose this route be prepared to have to reverse in this narrow country lane and please be patient and courteous to other road users.
Coming from Rogerstone you drive up Pontymason Lane and turn right just past Risca Leisure Centre and Comprehenisve School, onto Mountain Road – from there it's about 1.5 miles to the car park. You could, of course park at the Leisure Centre and walk from there.
 DARREN ROAD
On Darren Road there is the canal-side cafe of Whysom's Wharf. You could park around here (please be considerate of the residents' parking areas) and walk straight up Darran Road (a fairly steep climb) up to Pegwyn Y Bwlch and then the final steep ascent to the summit – do not attempt to drive up to the top of Darran Road, there is nowhere to park and extremely difficult to turn to come back down.
CIRCULAR ROUTES
A quick look at the map will show you many possibilities for an interesting circular route.
In previous years walkers on our organised walk from the Stony Bridge have continued over the top of the Twmp and back down to Darren Road, a cup of tea at Whysom's Wharf and then a walk down the Mon. Brec Canal back to the starting point.
Even if you drive to the Risca side car park, although it's a short walk to the top you could then drop down to Pegwyn Y Bwlch and follow the forestry road back round to your starting point.
JUST DO IT
Whatever route you choose – Just Do It – walking to the top of Twmbarlwm any day is a great day out but on Good Friday it's extra special.  It's a local tradition that's centuries old. The whole family will enjoy it, and if it's a nice day you'll be rewarded with stunning views – bring a picnic – but please remember to take all your rubbish home with you.
---
Here's a few photos from last year's event – it was not the clear, sunny, spring days  we had in the last couple of years – but still a couple of  hundred people walked to the top during the day.