What is the Twmp on Twmbarlwm?
First and foremost it is a Scheduled Ancient Monument – but just how ancient is open to much speculation – there's an official plaque on the mound which says:–
"This mound, a Norman Motte and Bailey Castle, was built in the 12th – 13th century to control the ridgeway and surrounding area. It stands on the eastern flank of a rock cut ditch enclosing about 12 acres. Thought to be an iron age hill fort but perhaps of medieval construction…"
In truth its history is richer than the plaque suggests. As the site of a Bronze-age cairn, Iron-age hill fort, Roman beacon and early Norman motte and bailey castle Twmbarlwm is an iconic landmark which has attracted pilgrimages for centuries.
There are many theories and opinions on its history – and it is an aim of CTS to research and discover its hidden secrets.
What Makes Twmbarlwm So Important?
The majestic mountain of Twmbarlwm (historically Twyn Barlwm) has a strong hold on locals and visitors alike. It is the first mountain seen on the horizon as travellers cross the Severn Bridge.
Those who trek to the top are rewarded with magnificent views over the Severn Estuary to the south and the Brecon Beacons to the north – on clear days the panorama includes seven counties.
The hilltop habitat is home to some endangered species such as the Cuckoo and Skylark and even the Red Kite is now seen in the area.
Much of the area is Common Land where local farmers exercise their ancient rights to graze their cattle and sheep.
The many myths and legends surrounding Twmbarlwm are an important part of the heritage of the people of south east Wales.
Who owns Twmbarlwm?
Twmbarlwm is owned by the Trustees of Llanarth Estate. Some of it falls within Mynydd Maen Common but it is not all registered common land. It is in part a scheduled ancient monument and is open access land under the Countryside and Rights of Way Act 2000 (CRoW Act 2000). There is a general assumption that it is 'public' land rather than privately owned and as a consequence of this it has become open to abuse, particularly by off-road vehicles, most notably scrambling bikes.
A letter published in the South Wales Argus on Tuesday 4th May 2010 highlighted the problem and the lack of concerted effort by the police to resolve this problem. I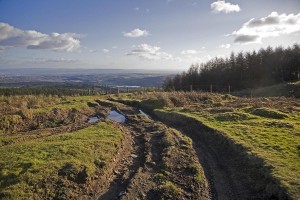 t was noted in communications with Llanover Estate that this problem is not a recent one and that all the commons within the region have a significant problem with off road bikes. The Mynydd Henllys Ridge has become a 'hotspot' for illegal off road riding, and driving, and the damage to the common below Twmbarlwm has become severe.
That letter became the catalyst for the foundation of the Society – see the "CTS Origins" article for more information.