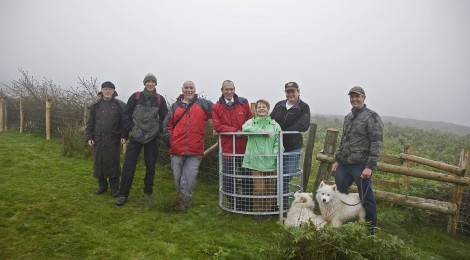 WELSH GOVERNMENT MINISTER VISITS GWENT'S ICONIC MOUNTAIN, TWMBARLWM
CTS was recently awarded a major grant from the Welsh Government towards their work. This prompted an invitation to the government Minister to visit the mountain.
John Griffiths AM, Minister for Culture and Sport duly obliged and, on 27th September 2013, he gamely braved the elements to visit the mountain. He was accompanied by Jocelyn Davies AM and Gwyn Price AM both of whom have a great interest in the area.
It was not a great day for taking in the glorious views – it was a cold, wet, misty, autumnal day but they all donned their waterproofs for members of CTS to guide them up the steep slopes to show them the work they have been doing to repair fences and put in barriers to deter illegal off-roading.
Chair, Terry Evans, showed the delegation where some of the grant will be spent in building new fencing and PC Simon James, Wildlife Crimes Officer for Caerphilly, outlined his role in working closely with the society to help eradicate illegal off-roading and fly-tipping from the area.
John Griffiths AM, Minister for Culture and Sport said "I am impressed with the wide scope of operations proposed by the society – from replanting of hedgerows to in-depth archaeological research of the area. The Society's work will benefit tourism to the area especially when coupled with the improvements to the mountain bike tracks planned at the Cwmcarn Scenic Drive on the other side of the mountain".
All the AMs were not strangers to the area – each had happy recollections and stories of previous visits there with family and friends – all agreed that Twmbarlwm is an important tourist resource for south-east Wales to cherish and promote.
After more than an hour walking around the mountainside in the mist and rain everyone was happy to get back to the refuge of their vehicles. The CTS members were grateful for the visit and are now looking forward to some positive work over the winter months.
There's still some planning work to do before the real work begins but if anyone is interested in helping you should get in touch via the "Contact" tab at the top of the page.