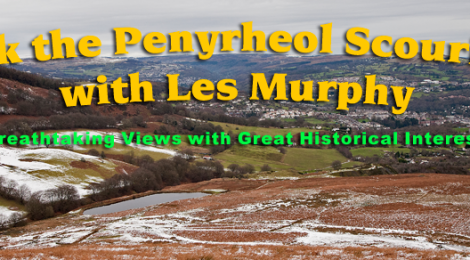 Eight of us gathered at the Mountain Air car park on a grey misty morning – but as we waited for Les Murphy to arrive the mist lifted to give us a reasonable view of the mountain slopes and out to Llandegfed reservoir.
Les gave us an introduction to the area and an explanation of the "scouring" process of open cast mining before we moved off up the slope where we immediately encountered a pair of motorbike scramblers coming down the slopes – they rode straight through the middle of our group and as they went by they saw fit to rev their machines to make their back wheels spin and so shower us with dirt and grit – and they wonder why we are so against them!
We walked across the top of the first main scouring which has the appearance of a huge quarry – it's quite amazing to imagine the amount of human endeavour that was needed to create this landscape – and the power of the water they released down the hillsides to help them reach the deposits of iron ore.
Throughout the morning Les pointed out the ponds that were created, the "leets" (channels) that were dug to direct the water where needed and the dams that were built to control the water flow.
The entire landscape has points of industrial interest as the area was rich in the main ingredients for commodities required for the industrial revolution – coal, limestone and and iron ore. The tree clad hills provided charcoal in the earliest days of iron production and the clay holding the ore provided another aspect of industry in the area.
More information will be added here – but in the meantime here's a few photos of today's excursion…