WALK AND TALK
Sunday 22nd June 2014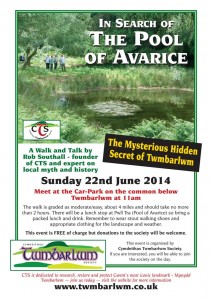 Twmbarlwm and Mynydd Maen have had numerous strange tales and legends associated with them over the centuries. One of the best known and enduring is the legend of the Pool of Avarice which was included in the collection 'The Pleasant Land of Gwent' by much loved Newport author and Argus columnist Fred Hando.
The story tells that there was once a great house at the site of a pool high on Mynydd Henllys ridge and one stormy day the inhabitants were visited by a poor relative who was in need of food and sustenance. Unfortunately the lady of the house turned him away with nothing. As he retreated away from the house he was aware of a sudden violent movement of the mountain as the hillside opened up, crashed down and buried the house. Since that time the local shepherd's claim that strange cries are heard to come from the reedy waters of the pool on stormy nights. These are thought to be the cries of the lost ones buried below, doomed forever by their avarice.
The Twmbarlwm society believes that the location of this pool shrouded in mystery for so long has been identified as Pwll Tra and this has been confirmed by local author Ralph Collins who has undertaken extensive research on the Nant Carn valley.
CTS is pleased to announce that the Pool of Avarice will be the destination of the first of our 'Walk and Talk' event of the Summer. The walk will be led by Rob Southall, founder of CTS and member of Islwyn Ramblers.
The walk will be on Sunday 22nd June. We will meet at the new car park near Twmbarlwm for an 11.00am start.
The walk is graded as moderate/easy, about 4 miles and should take no more than 2 hours. There will be a lunch stop at Pwll Tra so bring a packed lunch and drink. Remember to wear stout walking shoes and appropriate clothing for the landscape and weather.
Please contact CTS Chair Terry Evans on 01633 619902 or email twmbarlwmsociety@gmail.com for more information.
It may be possible to meet earlier at the lower car park at Risca Leisure Centre to arrange car share up to the walk starting point if required.
Help us spread the news – download a copy of the poster here, print it out and display in work or somewhere where lots of people will see it – many thanks.
---
Read the story of Pwll Tra here – written after a previous visit to this very special location