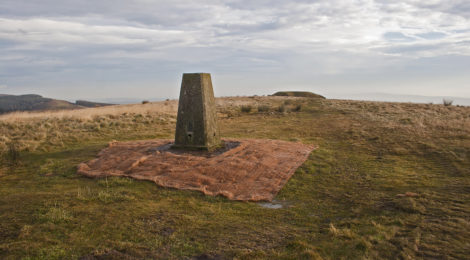 A few repairs have been done to sheep scrapes and eroded areas around the Tump at the instigation of Cadw in conjunction with the Commoners.
Some of the feral trees around the slopes of the Tump have also been removed – with some of the brash being used to prevent access to the desire path on the east of the tump which has been getting worse over recent years with people trying to take a short cut to the top
It all looks a bit unsightly at the moment with over 20 tons of soil being transported up there to fill in the holes. Grass seed is planted under the hessian and as the grass grows through it will bind it all together and the hessian will disintegrate. The muddy track will soon be washed away by the elements up there.
The infill around the trig-point is a bit premature to work we hope to be doing there soon – we are still going through the planning process for that so just watch this space for more info.