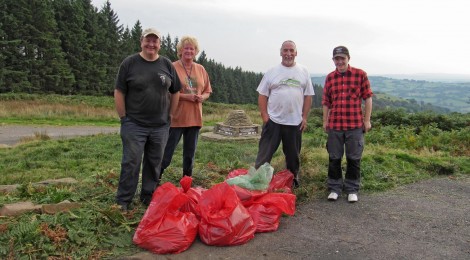 We have a volunteer workday scheduled for this Sunday – 26th October – as usual meet up at the car park on the common below the Twmp at about 10.30am.
Jobs we have to tackle are as follows:
We have a few trees left over from the springtime planting and we'll plant them in the triangle by the car park.
There's a length of fence cut down near the entry to the forestry which we could repair.
As usual the new fences need to be checked for any damage and the bracken inside the fences needs to be bashed back away from the tree seedlings too.
Of course there's the usual litter pick to do – last time I was up there, there was a lot of broken glass which needs to be cleared away.
As usual we'll have tea and biccies available.
As you can see there's lots of little tasks to do, so can we please try to get a good attendance for this.
---
EQUIPMENT
We have plenty of rubbish bags, gloves, hi-viz vests, pick-up sticks and most other tools and equipment that will be needed but you are welcome to provide you own.
Please remember to dress appropriately for the terrain and weather. We are properly insured but you will be expected to be aware of your own safety and act responsibly
---
HOW TO GET THERE
Click here if you don't know how to get to the car park – there's an easy to follow map for you to download.
If you can't drive up there please contact us via email and we'll try to arrange some transport for you. Similarly if you are able to offer anybody a lift please let us know.
---