WALK TO "PWLL TRA" – The Pool of Avarice
Sunday 2nd July 2017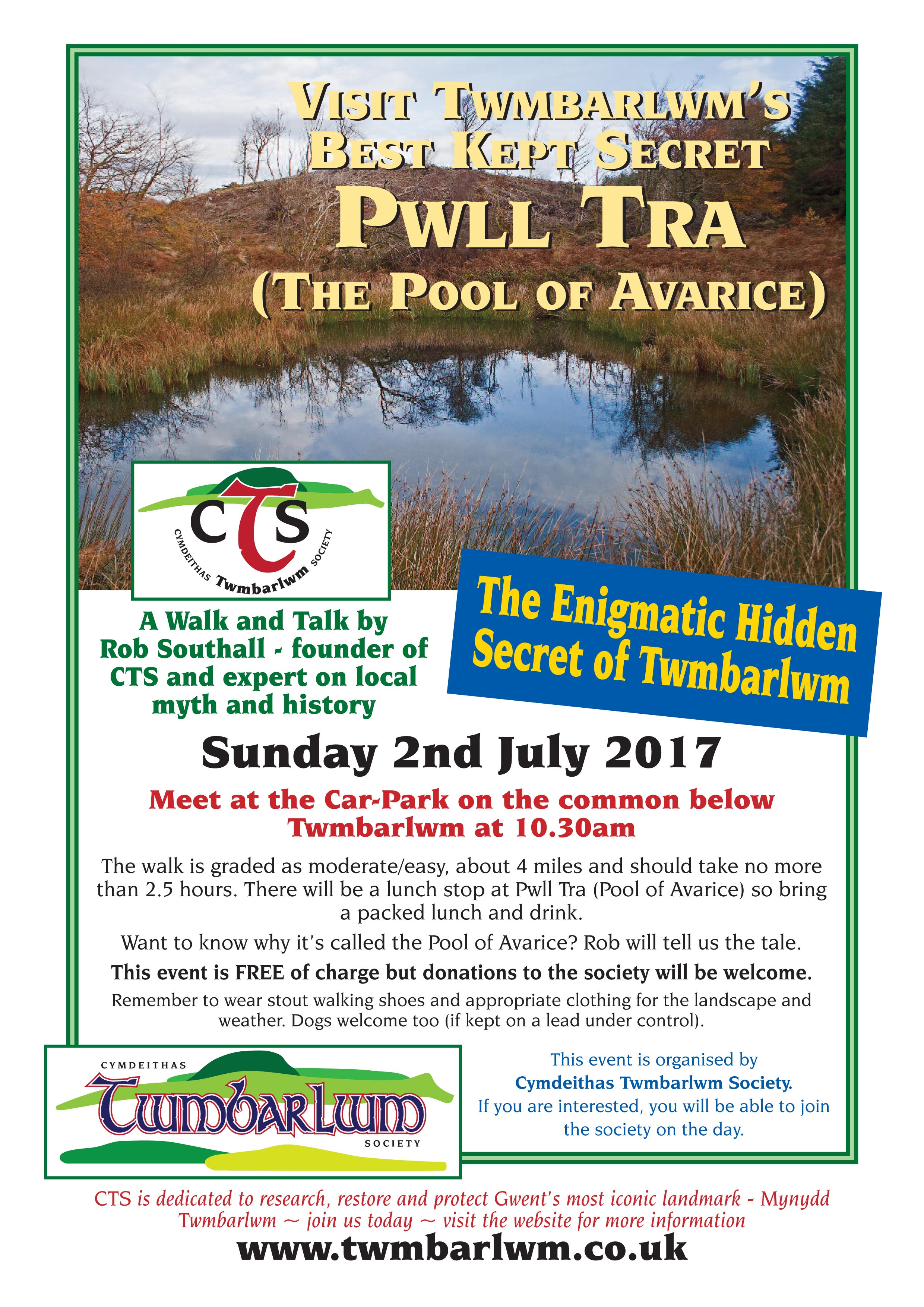 Here's your chance to visit Twmbarlwm's Best kept Secret – Pwll Tra or, in English the Pool of Avarice. The walk will be led by Rob Southall, founder of CTS, member of Islwyn Ramblers and mine of information on local myths and history.
The walk will be on Sunday 2nd July. We will meet at the car park on the common below the Twmbarlwm tump for a 10.30am start.
The walk is graded as moderate/easy, about 4 miles and should take no more than 2.5 hours. There will be a lunch stop at Pwll Tra when Rob will regale us with the tale about why this enigmatic pond is called the "Pool of Avarice".
Bring your own snacks and drinks – and remember to wear stout walking shoes and appropriate clothing for the landscape and weather.
It may be possible to arrange to meet earlier at the lower car park at Risca Leisure Centre to arrange car share up to the walk starting point if required. Please contact CTS Chair Terry Evans on 01495 271966 or email twmbarlwmsociety@gmail.com for more information.
Click here to see the location of the car park, where the walk starts from
Help us spread the news – download a copy of the poster here, print it out and display in work or somewhere where lots of people will see it – many thanks.
Last time we did this walk the pond was hidden in the depths of the Forestry adding to its air of mystery. The landscape is very different now since all the surrounding woodland has been cleared away by NRW's felling operation due to the disease affecting the Japanese Larch. CTS and our sister organisation, Friends of Cwmcarn Drive, had to fight to ensure that Pwll Tra remained relatively untouched and in fact the removal of the trees has opened up many of the gorgeous views and the area around the pool is a sea of foxgloves and undergrowth.
LINKS TO PHOTOS…
To whet your appetite here's a link to a gallery of photos taken by Rob on a recent visit
and here's another gallery taken by Terry Evans in November 2016, just after the trees were removed.
and here's a link to gallery of photos taken a previous visit in 2014
---
Read the story of Pwll Tra here – written after a previous visit to this very special location