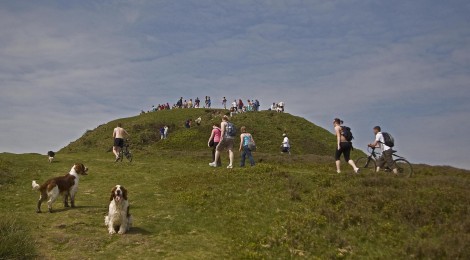 Walkers come from far and wide to enjoy the landscape of Wales and the walks up to and around Twmbarlwm offer the rambler a great variety of interest and breathtaking views.
There are many interestings routes around Twmbarlwm and this section of the website will provide you with maps and photos of all the best ones.
The Society is working to promote walking in the area and are looking to provide more waymarked routes and information signs. We often organise walks – like the popular Hot Cross Bun Walk every Good Friday (shown in the photo above) – and they will publicised on this site so please make sure you visit regularly for up-to-date news.

Many CTS members are also members of the local Islwyn Ramblers Group and they also regularly lead walks which take in Twmbarlwm and surrounding area.
The Visitor Centre at Cwmcarn Forest Drive is a great base to use as a starting point – for a trek along the forest paths before a steep ascent to the summit and those wonderful views. Or for the more casual visitor access is easier from the Risca side of the mountain where you can drive to the car park just below the summit then enjoy a relatively short but exhilirating walk to the top.
First time visitors are more often than not very complimentary of our mountain and promise to return.
We look forward to seeing you up the "Twmp"