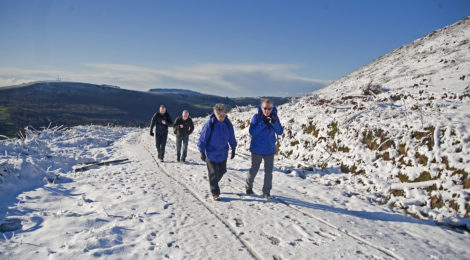 Twmbarlwm Xmas Excess Walk 2017
Wednesday 27th December 2017
This year Maggie Thomas planned to lead this walk not only for CTS members but also for Cardiff Ramblers but due to unforeseen circumstances the Ramblers could not take part – so there was only a stalwart few of us who turned up for our annual Christmas walk – but check out the photos below to see what an absolutely glorious day they and all you couch potatoes missed.
The previous day's weather forecast hadn't been very promising but the day arrived bright and clear – and the previous night's rain had turned to snow and the tops of the surrounding hillsides were dusted with snow.
Half a dozen humans and three dogs set off from the Wharf on the canal at Pontywaun and followed the canal to Green Meadow Bridge, where we started the climb up through Darren Woods – not that there's any woods there now due to the felling operations by NRW.
When we reached the forestry road above Cwm Byr we hit the "snow-line" – alright it was barely an inch thick here – but already very pretty. As we got to Pegwyn y Bwlch it was very icy underfoot but the snow on top was getting thicker and made the landscape an idyllic winter scene. At least the lack of forestry now makes the views even more splendid.
As we got around to the common below the Tump we could see that plenty of other people had decided to get up to the snowy landscape of Twmbarlwm and the car park was quite full and there were loads of people struggling up the steep slopes to the top.
At the top the wind was very strong and we only lingered there long enough to take a group photo and we went down in to the surrounding ditch for our much-needed picnic. We met up with Sue and another dog who had come up to dish out mince pies.
Unfortunately, yours truly had to leave the group at this point as my bad knee wouldn't stand up to the remaining 4 miles – especially through the thicker covering of snow along the ridgeway.
The remaining four soldiered on and I'm told they survived the descent from Car park 2 at the end of the ridgeway and down to the Cwmcarn Drive Visitor Centre before returning to the start point in Pontywaun. Apparently a great time was had by all.
Many thanks to Maggie for leading the walk and for laying on the snow to give us those exceptional views.
Have a look at the following photos and see if that inspires you to join us next year or on some of our other walks that we hold throughout the year.
Below is the route we took – if you don't fancy the snow it's a great walk at any time of the year.