We have a few copies of this fourth Newsletter still available, please contact us if you would like one, but the best way to view it is in our animated page turning reader – CLICK HERE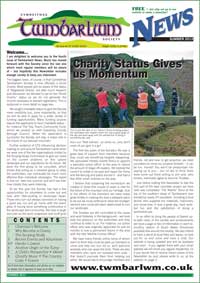 Many of the articles from this Newsletter are available elsewhere on this site – click on the contents list below.
CONTENTS
Chairman's Welcome
Why Become a Charity
The Scoping Study
Recent Events and Volunteers
Hando's Gwent
Another Origin of the Tump
A Child's Perspective • xWord
Ghostly Music • The Country Code • Events
If you would prefer to see it in PDF format click on the link below. With the PDF version you will be able to zoom in and out of the content and print off the pages on your desktop printer to read at your leisure or distribute to others who may be interested. Printed copies have been distributed to members who have requested it. If you would like a printed copy or know anyone who would like to see this publication please direct them here or email us with their contact details.
CLICK HERE to download the newsletter in PDF format.