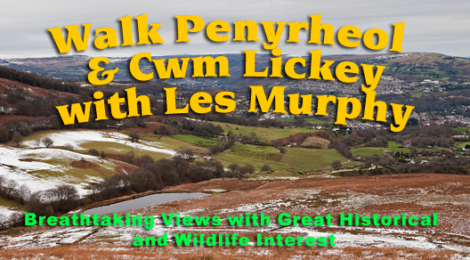 Sunday 14th May 2017 – 10.30am
PENYRHEOL and CWM LICKEY– WALK AND TALK
Les Murphy, CTS Trustee, Commoner and resident of Penyrheol and expert on the history of the locality will lead a walk around Penyrheol and Cwm Lickey – this is the eastern end of the Twmbarlwm ridgeway (Mynydd Maen and Edlogan Manor Commons) towards Pontypool. He will share his in-depth knowledge of the area and will point out the historical facts as we go. The distance and route will depend on what Les and the group decide on the day.
There have been recent sightings of Red Kites and Deer in the area, and at this time of year the Sky Larks, Woodcock and other species are plentiful and starting to nest – so this walk could be exciting for the wildlife enthusiast too
How many of you knew that this north east extremity of the Twmbarlwm ridgeway is also a Grade 2 listed Cadw Scheduled Ancient Monument, but unlike the iron age hill fort on the Risca side, Penyrheol gets its status due to the industrial heritage to be seen there. Cadw have been working with the Commoners in this area and have instigated bracken and gorse clearing – making some of the industrial landscape like Bell Pits and Lime Stone Clearings easier to recognise
This will be a great opportunity to learn more of the historical heritage to be found on our doorstep – and to see the similarities of the problems they are faced with on that side of the ridgeway.
We will meet at the Mountain Air car park at 10.30 – click here for a link to the location on Google Maps – or we will be able to organise lifts for a limited number of people, please contact us to arrange. If anyone else is able to offer a lift please let us know and we will pass the information on.
Please remember to wear sturdy shoes and clothing to suit the terrain and weather conditions and ensure you are able enough to tackle some of the slopes here which are quite steep.
It is FREE to attend this walk – but any donations to the society will be gratefully accepted.
What are the "scourings"?
This area, known to the locals as "the scourings", is an area where they once practiced a primitive form of open cast mining. Iron ore lay close to the surface so was easily exposed. The "Miners" would use picks and shovels to break up and loosen top soil. Then water that had been collected behind small temporary dams was channelled or raced out over the prepared ground. This washed away the soil and exposed the iron ore bearing stone.
After the ore was removed, a residue of coal was often left behind, which the workers were then allowed to collect for their own use. This was called outcropping, giving those that gathered the coal the title of out-croppers.
There's a great deal more evidence of our industrial heritage in this area which I'm sure Les will enlighten us on, but if you have a look at the "Industrial Gwent" website you'll see plenty of photographs and information to whet your appetite for this walk.
How to get there?
You can get to the Mountain Air car park via Cwmbran, through Thornhill and Greenmeadow to Upper Cwmbran and Blaen Bran and so onto Mountain Road
Or you can go via Crumlin and Pontypool, through Upper Race and onto Mountain Road.
Click here to go to the location on Google maps – bit.ly/MountainAirCarPark
If you want to see what a great day out it was last time we did this – CLICK HERE to go and see a report and a few photographs of the day.